STEERING OF ROAMING
Cellusys Steering of Roaming is the most flexible solution available today, supporting both the legacy 2G / 3G (SS7/SigTran based networks) and 4G / LTE (EPC Diameter based networks). The Steering of Roaming solution can be deployed as a standalone signalling message system or in a Hybrid configuration with an Over The Air (OTA) system, thus providing the widest range of steering capabilities.

Cellusys Steering of Roaming incorporates an extensive rules engine, which when coupled with its advanced reporting and analytics capabilities ensures:
Subscribers are routed to the optimum network.
Subscribers Quality of Experience is at the highest level.
The development and enforcement of policies to meet any operator or subscriber group requirements.
The network operator has real-time visibility to all roaming conditions and activity.
Standards: GSMA IR.73, 3GPP TS 29.272.
Benefits for you, the mobile operator
Pioneering technology: with Cellusys, your network can take a market-leading position in deployment of LTE roaming.
Flexibility to configure white and black lists: easily customise for particular requirements of subscriber segments.
Guaranteed Optimal Update Location (UL): success rate in preferred networks.
Highest quality and near-seamless service: Helps you differentiate your network and gain more loyalty.
Easily diagnose subscriber issues: Simply enter their subscriber's id, and return a full history of messages from one central database.
Avoid revenue leakage: With our powerful tools, operators avoid revenue leakage from partner network obligations.
Fully Integrated Solution Across Access Technologies: Our steering of roaming system consolidates the data across 2G/3G/4G access, and decisions are taken based on all of this data. This allows you to handle specific use cases such as Circuit Switched Fallback which is widely used during the transition to LTE.
Intuitive system: provides operators a clear view over the entire field of communications. Non-technical managers can also log in, and easily review reports.
Big Data technology: Cellusys systems use the latest Big Data technologies for near-realtime analytics in tracking patterns of usage and behaviours of subscribers - which means reliable data sources for segmentation.
Meet targets on the basis of traffic: Route subscribers on a profile criteria basis and achieve usage related targets more efficiently.
ANTI-STEERING DETECTION
Cellusys Anti-Steering Detection stops rogue network operators from circumventing the GSMA rules on Steering of Roaming. Cellusys Anti-Steering Detection provides more operator control, increased subscriber satisfaction and places the operator in an enhanced negotiating position.

Cellusys Anti-Steering Detection and Prevention provides Active Filtering as well as automatic and manual blocking. The Active Filtering can be updated quickly to neutralise any new anti steering resubmission methods.
Cellusys Anti-Steering Detection solution detects all of the different anti steering events down to the signalling message level. This removes any doubt that anti steering is taking place and which operators are deploying anti steering.
Standards GSMA IR.73, 3GPP TS 29.272
Benefits for you, the mobile operator
Detects when a network in a visited territory has an anti steering system; enables a countering mechanism, to route your outbound roamer to the desired network.
Detects variations in numbers and patterns of update-location messages, identifying fake update-location messages - these are indicative of attempts by networks in the visited territory to retain roamers for longer than necessary.
Unique SS7 and Diameter features provide support for legacy SS7 based networks and next generation LTE/Diameter based networks. Cellusys Anti-Steering of Roaming Detection and Prevention gives you full LTE integration, allowing anti steering detection across 2G/3G SS7 based networks and LTE/EPC Diameter based networks. Rules are developed independent of the underlying protocol thus reducing the complex changes required to support roamers on different technologies.
SMS DEFENCE
Cellusys SMS Defence is a flexible, scalable and powerful SMS firewall against all SMS messaging attacks. These attacks include: Spamming, Flooding, Faking, Spoofing, Viruses and SMiShing. SMS Defence is a valuable SMS firewall to help operators increase the quality of service for subscribers as well analyse and monitor A2P SMS traffic so that it can be correctly monetized to generate increased A2P SMS revenue.

Spam and fraud have significant negative impacts on network operations, customer satisfaction, and financial performance. SMS Defence is an SMS firewall that detects and stops spam and fraud in the mobile network.
Standards: GSMA IR.73, 3GPP TS 29.272
Find out how the SMS Defence solution can help you:
Maximize your SMS Revenues
Increase your Subscriber Satisfaction
Many subscribers regard spam as an invasion of privacy; unwarranted charges result from it, which leads to frustration for customers, and lost revenue for inter-carrier messages. Spam can destroy trust in an operator, leading subscribers to opt out of emerging mobile advertising and m-commerce opportunities.
In SMS fraud, the sender assumes the identity of a subscriber or SMSC, and so the operator receives no termination fee. Large volumes of unauthorised messages lead to increased operational costs.
SMS spam and fraud can degrade network and SMSC performance and can severely impact the adoption of revenue-generating services.
Cellusys SMS Defence solves these issue and many more!
Benefits for you, the mobile operator
Detailed trend analysis and real-time reports of SMS activity. The system highlights problem areas.
Real Time Alerts: SNMP traps, SMS, and emails can be sent to the NOC team when threats occur.
Powerful Rules Engine, with a multitude of matching criteria. Operators can implement broad policies and attain fine-grained control.
Block messages; return error messages; inform the message sender that the SMS has been delivered when in fact it has been removed from the network.
Protection when roaming: messages are routed through SMS Defence for screening, before being delivered to roamers.
AVG Integration: The Cellusys Global Threat Network is regularly updated with new threat definitions from AVG, which SMS Defence uses in scanning SMS content.
Cellusys SMS Defence can be configured with multiple virtual instances; each instance can be used by an individual network with its own message policies. Supports MVNOs, International SMS Gateways, SMS Hubbers.
Tailors to the technical capabilities of your network elements. Integrates with any network's STPs or Signalling Gateways. Supports both traditional TDM links and SIGTRAN M2PA or M3UA links.
Highly scalable, to handle large increases in traffic with minimal upgrade costs and effort. Additional Message Processor machines easily integrate with only minor configuration changes.
Critical revenue-generating of A2P traffic. A2P messaging, bulk SMS providers, and corporate SMS (Banking, OTP, etc.) can be blocked until commercial agreements are put in place.
Block SMS from foreign operators until a more favourable roaming contract is negotiated.
Reduced licensing costs of SMSCs: Block fraudulent SMS and see a reduction in messaging volume on the core of the network - where you pay for bandwidth.
Less spam means more satisfied customers, which means lower costs at your call centres, and fewer people leaving your network.
Process an unlimited number of messages. Expand your system, and you won't incur any additional software licensing fees.
Access CDRs easily - to analyse, verify billing, etc. CDRs are created for every message processed, and they are stored centrally.
SIGNALLING FIREWALL
Cellusys Signalling Firewall is a powerful system, guarding against signalling-based threats by supporting both an SS7 Firewall and Diameter Firewall.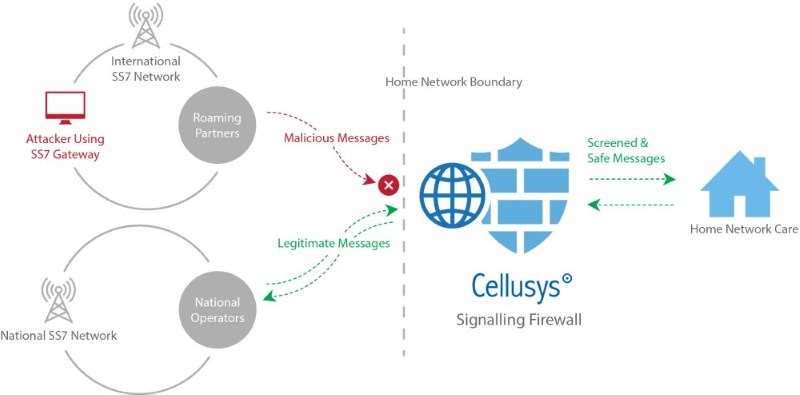 The Cellusys Signalling Firewall joins multiple protocols into a single platform providing a central point for implementing network signaling security procedures. Signalling Firewall's unique 4-tiered design includes:
Message Screening - Any Protocol, Any Layer, Any Message and Any Diameter Attribute Value Pair (AVP).
Contextual Awareness - Provides a powerful tool in determining whether otherwise valid messages are a threat to the network or subscribers based on their context.
Near Real-time Streaming analysis - Allows user defined triggers (GTT, Network, etc.) to be used to define a category for scoring. The resultant score is sent to message screening rules to affect incoming messages.
Reporting - Flexible reporting enables the definition of metrics, thresholds for alerting and the publishing or reports based on these criteria.
Find out how the Cellusys Signaling Firewall solution can help you:
Protect your network.
Protect your subscribers from fraud.
Protect your subscribers privacy.
Protect your revenues.
SS7 Signalling was designed for a very different environment to that of today. In the 1980s, among the small number of mobile telecoms operators - all state-owned, or large corporations - there was a high level of trust. They simply needed a 'walled garden'. No authentication was built in to SS7.
Now in 2015, and with 800-plus operators in the market, it's easier than ever for companies to get access to the SS7 network. Operators and roaming hubs are selling access at relatively low cost. Some operators have even resorted to selling their roaming agreements - so once someone has access in one territory, they have access to the SS7 network - and all subscribers - worldwide.
Cellusys SS7 Firewall and Diameter Firewall addresses these threats in the legacy SS7 and the next generation LTE/EPC Diameter based networks.
Benefits for you, the mobile operator
Operators are able to detect threats and prevent attacks of each of the 5 critical types: Tracking, Intercept, DoS, Fraud, Spam.
Multiple rules for powerful policy enforcement. The firewall is able to execute complex tasks, with inbuilt Signalling Intelligence
Full control over the network signalling protocols:

SS7 MTP3 through MAP
Diameter - all messages, all Attribute Value Pairs (AVPs)

Fine-grained filtering, which enables operators to guard against signalling attacks while allowing valid messaging into the network.
Detailed reporting and alerting of issues.
Flexible pipeline architecture, enabling new modules to be quickly deployed in response to newly arising threats.
TCAP De-duplication module detects and removes looping messages.
Protection of subscribers' IMSIs. SMS Router returns fake/masked details for IMSI/MSC addresses when external entities are querying for subscriber information.
SMS Router verifies roaming subscriber's location before accepting messages from that location.
MOBILE BROADBAND
Cellusys MBB solution helps mobile operators to understand what exactly subscribers do with broadband data.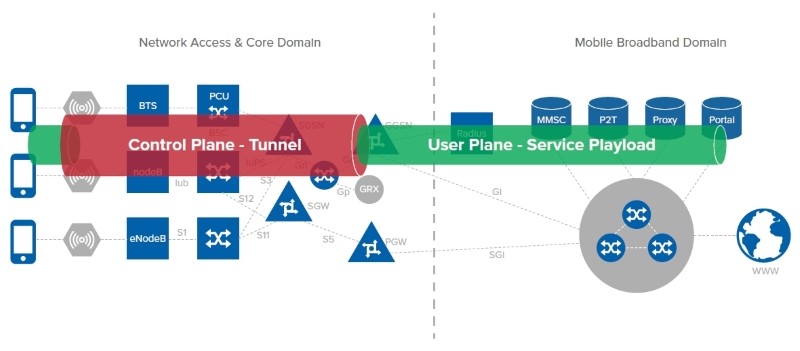 Mobile Broadband is a Service Payload Analyzer that provides real-time answers about what subscribers do with broadband data. It is unique in that it illuminates the User Plane, providing full access to transaction details for each individual subscriber for wireless broadband data service accessed through your network. DPI (Deep Packet Inspection) technology and Extended Analytics are used to further classify those applications and services that are using encryption, non-standard protocols or others.
Monitor Subscriber Behaviour & Preferences
Proactive intelligent service monitoring of the user plane enables analysis of exactly which subscribers are accessing what services from where, providing comprehensive insight as to how subscribers are using your services.
Reporting
Dashboards
Near realtime to longterm reporting
KPI troubleshooting
Access to user plane transactions
Mobile Device - End Terminal Profiling
Data Session performance is often degraded by faulty end terminal configuration or new software version of the respective mobile device. Mobile Broadband provides answers to help identify the source:
What is the ranking and distribution of end-terminal types used by subscribers?
Which device types are most likely to perform poorly in terms of accessing certain data services?
DPI (Deep Packet Inspection)
With DPI capability, the details of all the applications used are detected and classified providing full details of which services are consuming the most bandwidth, especially services and applications using encryption, non-standard protocols or other methods to avoid detection at the operator's firewall. Mobile Broadband gets to the root of customer experience by showing, for example, exactly how your most valuable customers use your services.
Benefits for you, the mobile operator
Validate each subscribers achieved data quality
Understand and check service expectations of VIP subscribers and wholesale partners
Utilize transaction output as 2nd source for accounting validation against VIP and roaming charging (TAP files)
Appreciate mobile device traffic generation differences
Locate & analyze data delivery faults (re: subscribers)
Rank services to optimize service plan offerings
Monitor Roaming experience / QoS for data services