NETWORK AND SERVICE MONITORING
Customer experience and network services issues must be managed in real-time, to reduce operating costs and increase revenues. Talk to your customers on-line.
Fast Customer Issue Resolution

Nexus Telecom's unique real-time end-to-end customer experience solution delivers fast, easy and first-time-right investigations. There is no waiting for network-wide call flow traces and protocol analysis. Real-time correlated customer insight data enables efficient network management for fast investigations of customer, network and service issues.
Centralized Visibility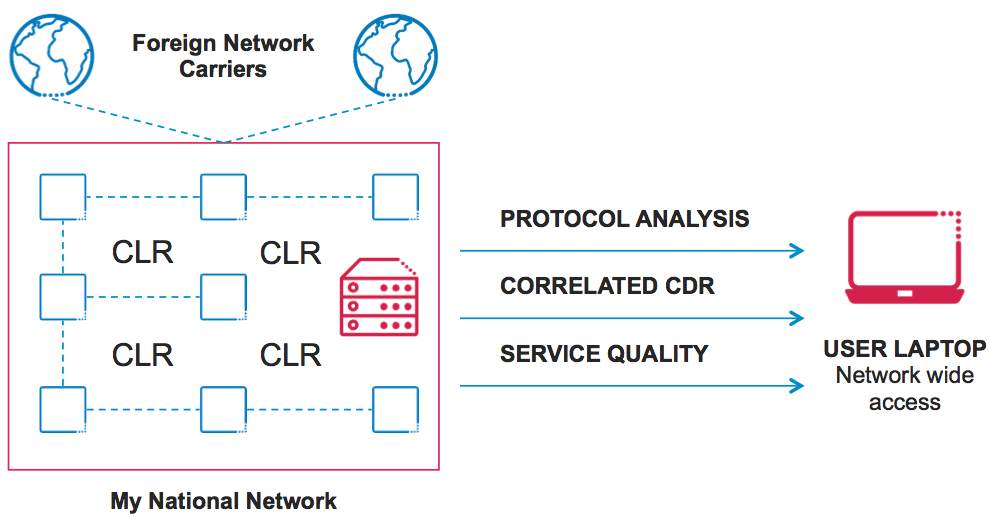 Our network and service monitoring solution captures network-wide end-to-end customer experience information. Passive probes store the captured protocol messages from the signaling links. The signaling information is centrally processed to provide real-time applications with correlated customer experience data, enabling fast transaction searches to analyze customer complaint issues. Customer voice and data service investigations include call flow analytics and network-wide protocol analysis of historical or on-line signaling messages.
More efficient network management
If operational costs are stubbornly high, our efficient centralized monitoring solution reduces investigation times, saving hours or even days, and that's a lot of money! Our single system scales easily to monitor large multi-technology networks, providing network-wide and multi-technology network service management. The system delivers real-time customer experience insights enabling central applications to detect network and service performance issues. These real-time customer insights provide the most valuable data for OSSS/BSS management systems.
Customer Experience Solution Features
We make efficient use of voice and data service records to add intelligence to our customer experience insights.
Single multi-technology system
Network-wide correlation
Call trace diagrams
Customized service reporting
24x7 full data monitoring
System performance for 200 users
VIP customer monitoring
Fast data feed for Fraud systems
Data and Voice services
Customer care efficiency
Storage of protocol messages
Dashboard and KPI analytics
Scales to any network size
Roaming service management
Open interface integration
NETWORK AND SERVICE PERFORMANCE MANAGEMENT
Real-time trend analysis and complex anomaly detection for pro-active management of network performance and customer service quality.
Our solution enables Tier 1 operators and enterprises to cost-effectively operate, optimize and plan their networks. Real-time network infrastructure and service status reporting detects service quality issues. "Burden-of-proof" troubleshooting investigations determine if an issue is a network or a customer related cause, helping to manage strict Service Level Agreements (SLA) and protect revenues.
Easily Manage Growth
Growth in customers, network and services increase revenues. Infrastructure issues that impact any of these are critical and threaten revenues. Our solution gathers service application and network resource statistics, to display near real-time network-wide visibility of traffic load and service quality performance. Customized alarm thresholds allow engineers to get early warnings of potential major issues and resolve them immediately.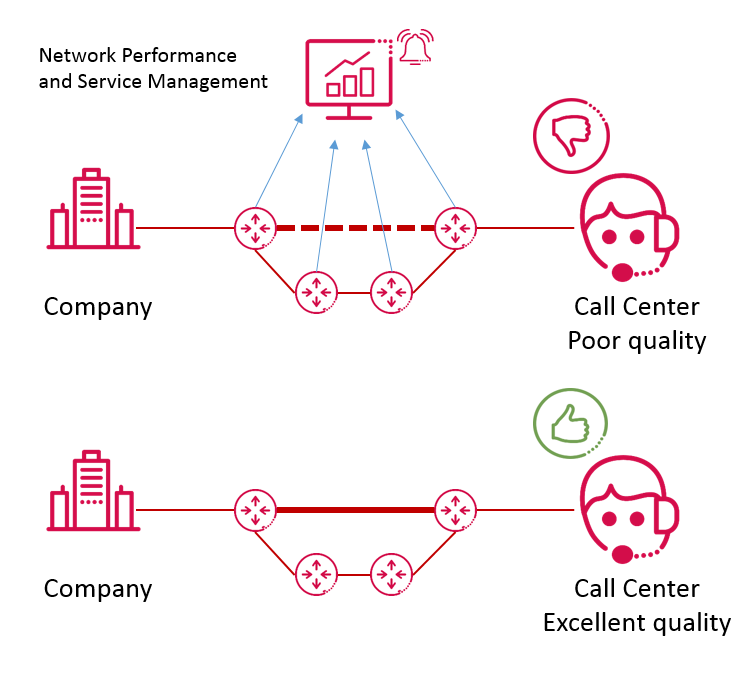 Guaranteed Service Quality Attracts Customers
How can you manage service quality for high revenue customers? Tier 1 operators use our solution to detect issues impacting services and investigate to find the cause and "burden-of-proof". Detecting and efficiently resolving issues reduces operation costs and protects revenues. Customers can login to service performance reports and view their service performance details over various time intervals.
Network performance solution features
Managing unified network resources and service applications delivering customer services.
Multi-vendor data gathering
Multimedia service applications
Network resource status
Near real-time dashboards
User configurable overviews
Near real-time system health
Multi-tenant accesss
Ethernet Enterprises
Service quality performance
Customized network reporting
Service event alarms
NETWORK AND SUBSCRIBER INTELLIGENCE
Real-time network and subscriber intelligence data for OSS / BSS applications help you transform the customer experience.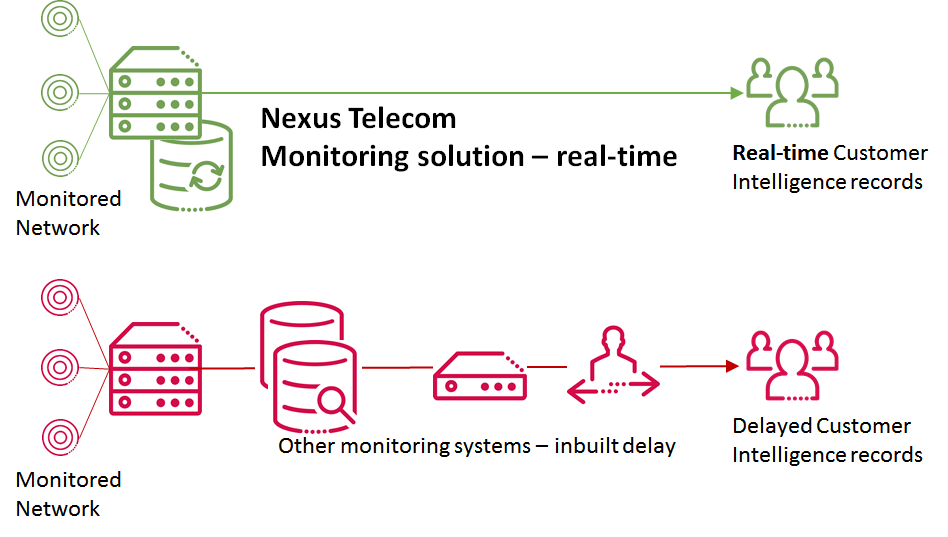 Monitoring network signaling links captures the network-wide customer experience. Our solution adds intelligence to captured data by correlating all customer network transactions into a single customer data record (CDR). Through open interfaces, our real-time customer insights are easily integrated for revenue assurance, CEM applications and other OSS/BSS systems.
Customer Intelligence for Efficient Management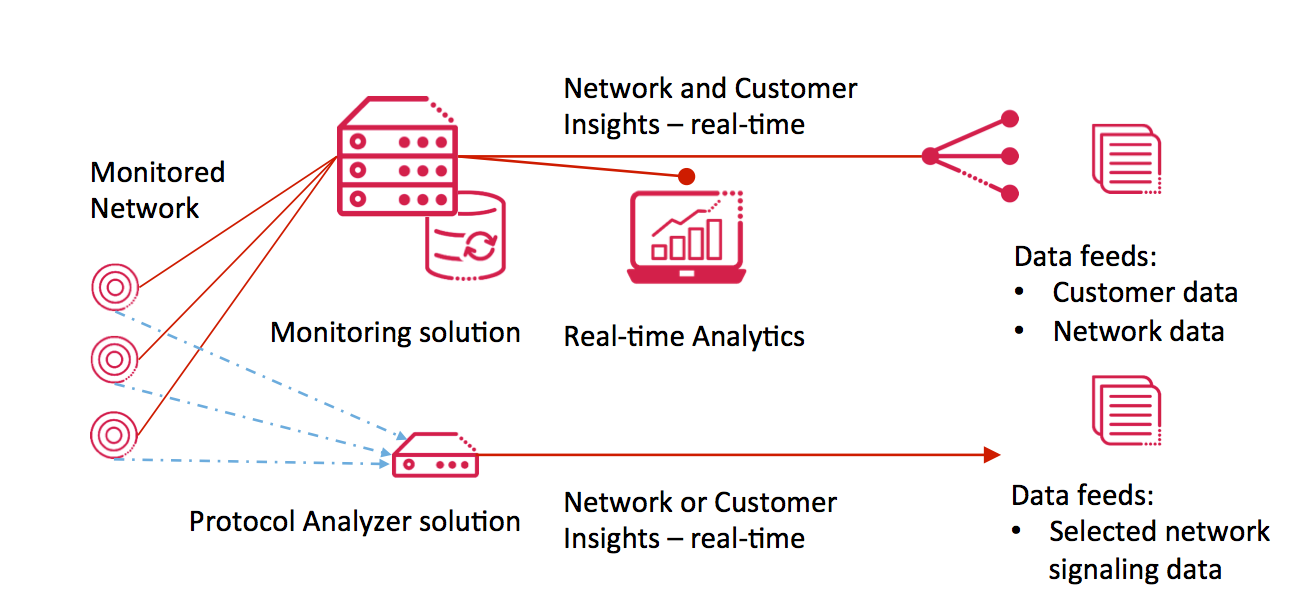 Telecom customer experience data expands as services become more complex, consuming valuable time searching and analyzing. Our Network and Subscriber Intelligence solution delivers customer insights in real-time, with added intelligence to increase OSS/BSS application efficiency and deliver fast results. Real-time OSS/BSS customer insight integration examples include Revenue Assurance systems, Business Intelligence, Welcome SMS, Device management systems and Road traffic flow reporting.
Subscriber Intelligence Solution features
Real-time network and subscriber intelligence data features for customer experience insights.
Multi-vendor network data
Customer Experience records
Signaling statistics
Customized data filtering
System health monitoring
Proven Billing Verification data
Network Performance
Service quality performance
Documented data selections
User configurable access
Proven Fraud Detection data
Proven cell location data
TELECOMMUNICATION PROTOCOL ANALYZER
Trace cause of Network Service issues in the Protocol Bits & Bytes.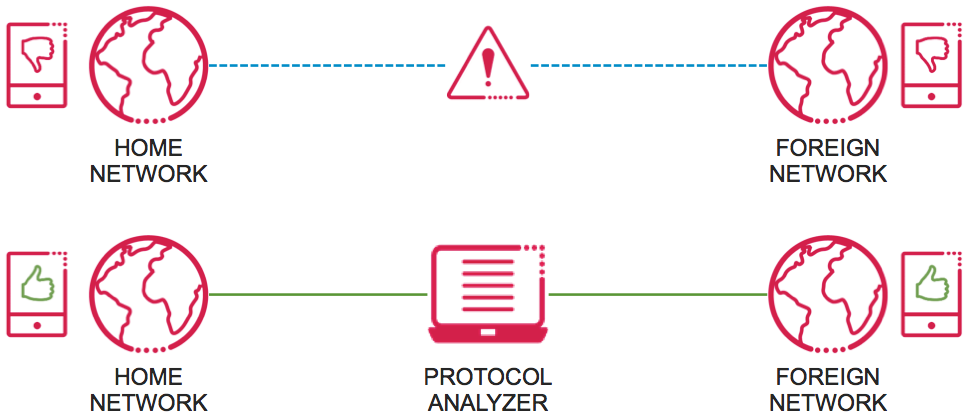 Telecom network signaling protocol messages carry critical information and must arrive on time. Our portable and server based protocol analyzer solutions capture and store accurate protocol messages, analyzing them with intuitive tools to investigate service issues. Users can log-in remotely and view automated process alerts during issue analysis.
SCALABLE CENTRALIZED TELECOM PROTOCOL ANALYZER SYSTEMS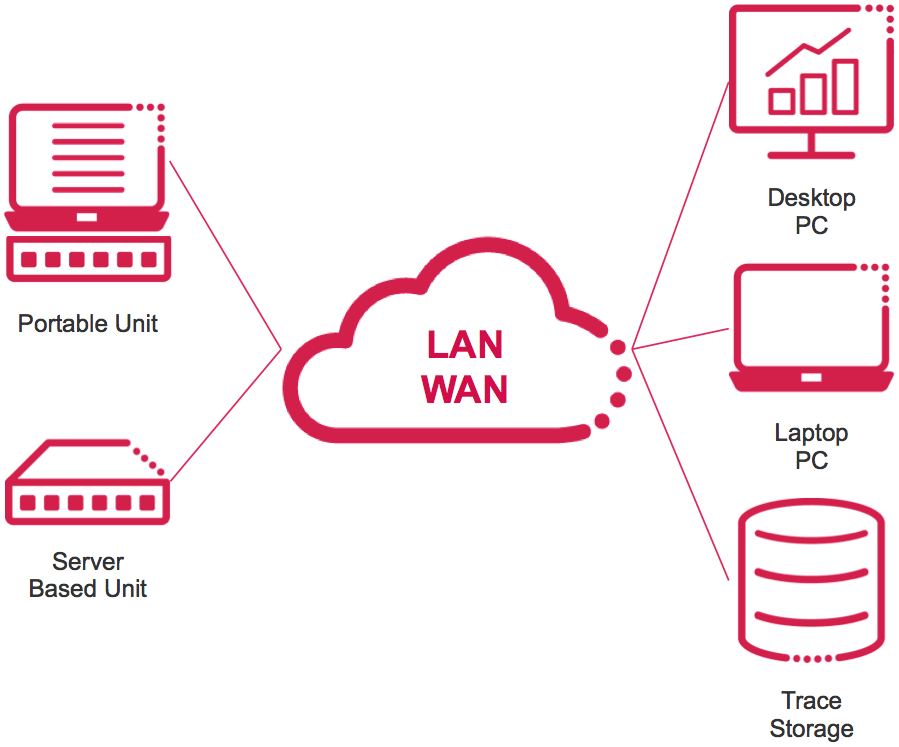 New mobile network extensions and test laboratory environments require ad-hoc monitoring of signaling links to configure and correct service functions. Our centralized protocol analysis solution with central trace data storage are LAN connected to portable units and server-based units. Multiple users are able to log-in and analyze any historical trace files or select on-line signaling message analysis. Centralized 24x7 data processing options include creating CDRs, KPIs and export report data.
GSM-R RAILWAY SUPPORT
GSM-R networks are supporting new fast train signaling using ETCS signaling standards. For safety reasons, it is critical to monitor the train signaling and cell coverage to report any signaling gap issues with high speed train supervision. Our protocol analysis solution provides complete detection, decoding and correlation of GSM-R and ETCS protocols. Reporting includes train signaling performance and GSM-R cell coverage, which simplifies the roll-out of train control systems and reduces deployment costs by not using test trains and rail capacity.
Centralized Protocol Analyzer Features
Protocol Analyzer features for portable and server-based network service analytics.
Monitoring live traffic
Interconnect VOIP monitoring
Service event alarms
Drill-down from alarms
Storage of monitored link signaling
Export of customer CDRs
GSM-R traffic monitoring
Multi-vendor protocol support
Graphical call trace
IP flow analysis
Off-line software
Roaming customer traces
Event counter analysis
Customizable alarm thresholds
Analysis of protocol messages
Real-time event KPIs
Customer experience traces
GSM-R and ETCS correlation
Multi-interface correlation
VOIP playback analysis
Comprehensive protocol filtering
Service-level valid upgrades

NETWORK TIMING SYNCHRONIZATION
Our partner Oscilloquartz, with over 65 years of experience, offers time and frequency synchronization solutions.

Through our partner Oscilloquartz, we bring end-to-end synchronization systems that ensure the delivery and assurance of highly precise timing and frequency information over next-generation packet and legacy networks. The product range includes Cesium Primary Reference Clocks, SSU's, GNSS Clocks, NTP clocks and PTP 1588v2 clocks.
Meeting the increasingly stringent synchronization requirements of today's and future applications requires the implementation of a primary reference clock (PRC) source at central network office locations that generates ITU-T G.811/Stratum 1 frequency signals with accuracy greater than ± 1 x 10-11 at all times. Our OSA 3230B provides a frequency source with accuracy better than ± 1 x 10-12 during its entire lifetime and is ideal for enhancing overall network performance and preventing up-stream network clock errors from propagating across the entire network.
SCALABLE SYNCHRONIZATION SOLUTIONS

Our OSA 5548C Synchronization Supply Unit is a scalable synchronization solution rangingfrom 20 unprotected outputs up to 1,000 protected outputs by adding up to four expansion shelves to the core unit. Its ultra-compact footprint makes it ideal for telecom operators to provide scalable network synchronization in over-crowded exchanges.
The distributed intelligence message passing system of our OSA 5548C SSU eliminates single points of failure and guarantees reliable uptime. Core unit and expansion shelves share the same modules, minimizing overall administrative complexity and enabling reduced homologation activity.
FOR FURTHER DETAILS
Reach out to us over e-mail or telephone and we will be glad to share info on more time synchronization models and further details.